It's National Novel Writing Month too? Oh My!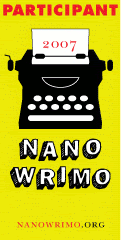 Have I mentioned NaNoWriMo here yet? I don't recall if I have or not, it is a yearly writing challenge to write 50,000 words before the end of the month of November. Starting at midnight on October 31st keyboards everywhere are being worn out as writers try to dash for the goal of 50,000 words. This year I am going to be a NaNoWriMo participant - again. I have been participating in NaNoWriMo for years, started in , but over the years and changing computers and website crashes I have lost my participation badges. I need to locate those online somewhere, can't find them on the NaNo website, and get my badges up on my writing website. (Time to hit the WayBack Machine!)
So, what am I writing this year? I have a plan brewing to work on a novel about being a caregiver. I have ideas percolating for it at the back of my mind, but I think that would be a good novel for me to stretch my skills on this year.