Alaska State Fair
Me and my sister took our dad and one of her granddaughters went over to the Alaska State Fair yesterday. I did some entries on the Alphasmart during the trip, they are below here...
* * *


We're off to go to the Alaska State Fair. Beautiful sunny day out today, I love it. Just enough clouds around the edges to keep it cool, but not enough to pose a serious threat of rain yet. We may just make it through the fair without being rained on.
* * * *
As I write this I am working on my little Alphasmart sitting at the state fair waiting for my sister and her granddaughter to rejoin me and dad. Dad and I are taking a break sitting in the cover of a food place while my sister and her granddaughter go through the aisle to get us food.
It is still an absolutely gorgeous day today with the sun shining down beautifully. I'm very pleased with my little Alphasmart, as the thing is in direct sunlight and I can see the screen perfectly. I do think, however, that I should have worn a sleeved shirt instead of the t-shirt I am wearing. Even as thin as it is it is hot in it and I am going to have pale white shoulders and upper arms and be brown below the elbows.
* * * *
Sitting at the fair waiting for everyone else to finish eating I am watching the people on the fair rides. I recall going to the fair with my sister (not the one I am here with) years ago and we would always take the kids and go on the Tilt-A-Whirl ride.
It was sort of a tradition that we go on that and squish her children. The kids loved that ride almost as much as me and my sister. ::snicker:: Of course, the ride would shift and we would be the ones smooshed into the side by the kids. It was particularly fun because the ride was one of the older ones at the fair and the newer fancier ones attracted all the other thrill seekers leaving us nearly alone to ride the Tilt-A-Whirl, which meant that unless there got to be a line waiting the ride operator would just let us keep on going for as long as we wanted. He explained at one time that we had so much fun laughing and carrying on that with me and my sister and three kids we were attracting other riders to what had to have been the best ride at the fair. And in my opinion it is. I soooo miss riding that ride after dark with my sister and her kids.
* * * * * *
And that ends the entries from the fair trip. We had a great time, meandering around checking things out. When we first got there I helped my dad into his wheelchair and asked where the foot rests were. ::pounds head on desk:: They was left home! People wonder why me and mom need lots of time to get things together to go somewhere, it's because it takes a LOT of preparing to make sure nothing like the wheelchair footrests are left behind. (We were going to go to the lower 48 once and about 250 miles down the road went to get food only to realize we had left my dad's dentures at home on the bathroom vanity!)
Anyway... dad used his right leg to hold his left leg up for a little while and we went slow. There was a wheelchair and stroller rental just inside the gates and we rented one of their wheelchairs with foot rests and the gal kept my dad's wheelchair there. Worked out good.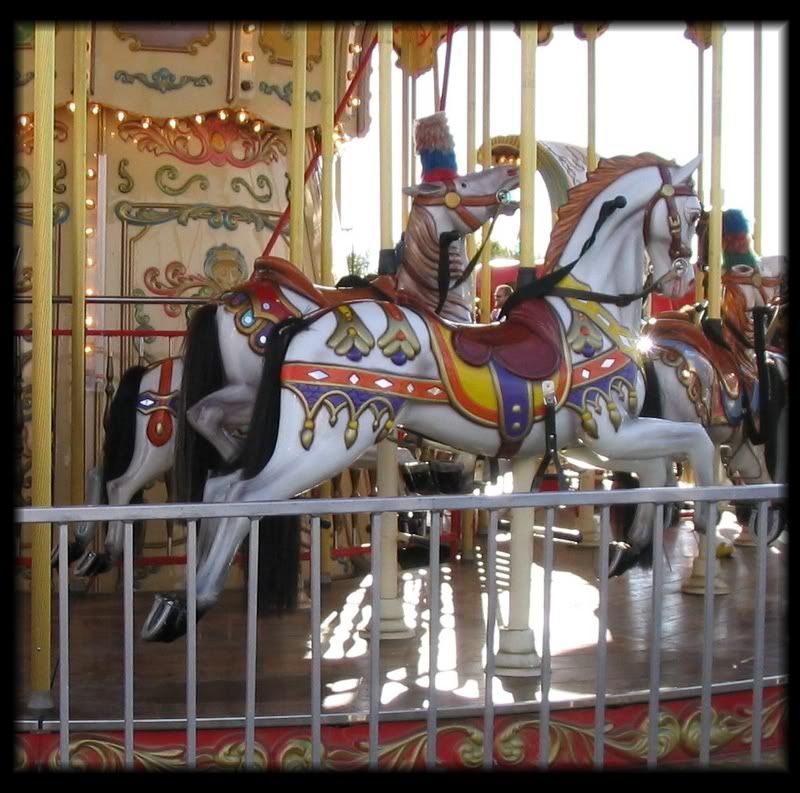 We went off exploring the fair after that. Checked out the animal barn then meandered down by the fair rides where I got pictures of the carousel - will share more of those later when I get the pictures edited in GIMP. I looked for the Tilt-A-Whirl, finally asked one of the ride operators (he had no idea what I was talking about, said "You mean kind of like the Octopus?" when I described it and I said "Yeah, sortta." He said it was set up on the other end of things, but I'm not sure if he meant the Octopus or actually did mean the Tilt-A-Whirl.
We had a lot of fun though, watched the Alaskan Native Dancers perform for a little while, then went off to meander through the Imaginarium building
and see what they had in there, then we went and checked out the crafts building.
I could have spent all day in there watching the gals sewing up quilts, studying the quilts that hung in there, and listening to the demonstration on quilts that they had describing some of the quilts and the work that was done on them. Had I been alone I know I would have, but, alas, I was not alone and was riding with someone else, so I had to be good and not get too lost in the quilts.
We went and found my little wyvern figure that I had made (a wyvern is a dragon with two legs rather than four). The little fellow did good (particularly considering I only had a week to build him and was still working on finishing touches on paint in car on way to drop him off during the last hour they were taking submissions. lol). Here is a collage I made for him from pictures taken.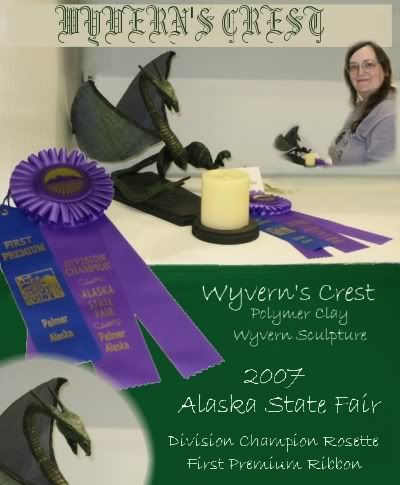 Those are
Division Champion Rosette
and
First Premium Ribbon

I can reclaim him after the fair is finished, fair ends the 3rd, I think I can pick him up the 4th, 5th or 8th if I remember right. After I have him I'll get better pictures of him with his ribbons.
Labels: A rare peek into my life as a family caregiver, Alaska in pictures, OOAK, quilting, taking pictures