Quilted pillow case
I made my mom a new quilted pillow case, had been going to make it for my bed, but I liked how it turned out so much I decided to give it to my mom, anyway, I went to take a picture of it a few minutes ago and found that it apparently had to pass inspection first.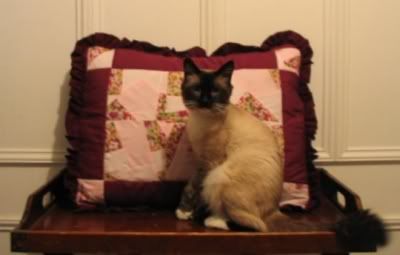 Pillow inspector
This is the first pillow case I have ever tried to make, so I am really happy with how it turned out. I made the center area a while back to make a small quilt with a checkerboard of the crazy pattern and solid prints, then never made the quilt out of it.
Here is the cat-free view of the pillow: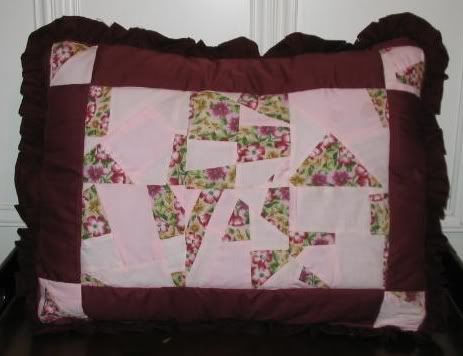 I should have spliced the crazy sectioned middle and pieced it rather than sew the square sections together like I did, but I didn't think about that until I was half through with the pillow case. Ah well, something to remember for the next pillow case, huh?
The edge is a hand made ruffle that I made myself. It was the hardest part since on one side of the ruffle the thread kept breaking and forcing me to start all over again.
And no patterns here, I just sewed things where it seemed like it'd work and made the ruffle based on how I make the top edges of skirts and pull in fabric on dress shoulders.
Labels: quilting